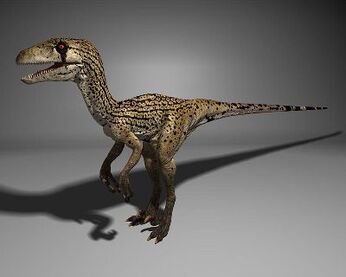 Who says ENR can't be adapted?
So, this is my own little ENR thing. Except I doubt it will ever happen. Might be nice, but oh well.
What is it?
A Jurassic Park...with the largest of every type of prehistoric creature. Hence the name.
Location
It could be located on Hawaii's "Big Island", as there's plenty of room and lots of different habitats.
Animals
Basilosaurus cetoides
Livyatan melvillei
Zaglossus hacketti
Hippopotamus gorgops
Giraffa jumae
Bison latifrons
Syrian Camel (Camelus moreli?) or Megacamelus merriami (official decision pending confirmation)
Daeodon shoshonensis
Diprotodon opatum
Thylacoleo carnifex
Thylacosmilus atrox
Procoptodon goliah
Ursus maritimus tyrannus
Smilodon populator
Panthera leo atrox
Epicyon haydeni
Amphicyon (exact species pending confirmation)
Doedicurus clavicaudatus
Deinogalerix koenigswaldi
Minorcan Giant Lagomorph (exact genus + species unknown)
Coryphodon eocaenus
Paraceratherium orgosensis
Elasmotherium sibiricum
Megatherium americanum
Gigantopithecus blacki
Archaeoindris fontoynonti
Mammuthus sungari
Josephoartigasia monesi
Hydrodamalis gigas
Arsinoitherium zitteli
Uintatherium anceps
Desmostylus hesperus
Macrauchenia patagonica
Toxodon platensis
Megistotherium osteothlastes
Sarkastodon mongoliensis
Andrewsarchus mongoliensis
Cotylorhynchus bransoni
Anteosaurus magnificus
Mosasaurus hoffmanni
Titanoboa cerrejonensis
Megalania prisca
Mauisaurus haasti
Liopleurodon ferox Don't argue, OK?
Shonisaurus sikanniensis
Archelon ischyros
Scutosaurus karpinskii
Redondasaurus gregorii
Quetzalcoatlus northropi
Argentinosaurus huinculensis
Zhuchengosaurus maximus
Spinosaurus aegypticus
Giganotosaurus carolinii
Tyrannosaurus rex (Well...DUH!!!)
Deinocheirus mirificus
Utahraptor ostrommaysorum
Ankylosaurus magniventris
Stegosaurus armatus
Eotriceratops xerinsularis
Aepyornis maximus
Dinornis giganteus
Argentavis magnificens
Dromornis stirtoni
Pinguinus impennis
Leptoptilos robustus
Raphus cucullatus
Canadaga arctica
Gastornis parisiensis
Kelenken guillermoi
Harpagornis moorei
Sylviornis neocaledoniae
Chloridops regiskongi
Osteodontornis orri
Campephilus principalis (the only one that we might not need to genetically engineer...!)
Nestor productus
Anthropornis nordenskjoldi
Ornimegalonyx oteroi
Prionosuchus plummeri
Beelzebufo ampinga
Diadectes maximus
Anthracosaurus russeli
Eogyrinus (exact species pending confirmation)
Dunkleosteus terrelli
Hyneria lindae
Leedsicthys problematicus
Xiphactinus audax
Carcharodon megalodon
Stethacanthus productus
Helicoprion bessonovi
Anomalocaris canadensis
Jaekelopterus rhenaniae
Pulmonoscorpius kirktonensis
Brontoscorpio anglicus
Euphoberia (exact species pending confirmation)
Arthropleura armata
Isotelus rex
Formicium giganteum
Meganeura monyi
Saurophthirus (exact species pending confirmation)
Mazothairos enormis
Xenoblatta scudderi
Campanile giganteum
Platyceramus platinus
Parapuzosia seppenradensis
Megateuthis gigantea
Cameroceras alternatum
In progress
See design plans and more at "Site B!"
Sources
Special thanks goes to this Wikipedia article!
http://www.windsofkansas.com/lifesize.html and http://gsa.confex.com/gsa/2003AM/finalprogram/abstract_66896.htm for some invertebrates.