I have no plans for working on this anymore, as I've been developing a "sweded"-type video that I can actually make without Graham Chapman. I'm keeping the page for reference though as it was the source of this swede and a large influence.
This fanfiction contains bad language.
It may not be suitable for children under the age of 13.
This article, Jurassic Park (as done by Monty Python's Flying Circus), was written by me, Styracosaurus Rider. Please do not edit this page without my permission.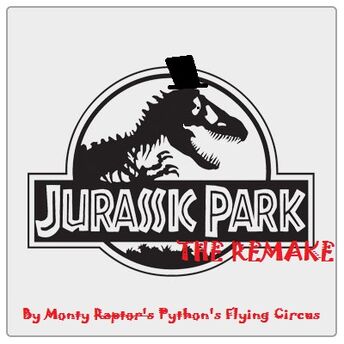 As I promised you, it's...!
This will be written in script format, and stars all the Pythons!
It is based on the novel, because I thought it would be cool, and because Henry Wu is just too damn cool to appear only as a cameo.
WARNING: I am writing this like a real Python film. For those who are Python fans, you know exactly what I mean. Viewer discretion is advised. OK?
The Script
A black screen. Remain like this for around 2 minutes.
Then fade to a jungle scene. Various bird noises can be heard. Wait for a few moments.
Then, there's a faint crashing noise, like something big moving through the jungle. Just farther away. Then there's a roar.
The crashing becomes louder. And LOUDER. And LOUDER. Going so loud the speakers are gonna blow any minute now. The crashing goes on for about 2 minutes. And suddenly:
The It's Man bursts through the brush. Gasping for breath, he stops. And then:
It's Man: It's---
And then he is promptly pulled from the top by a long, toothy mouth and nearly brought off-screen, so only his legs are dangling.
And now for something completely different:
Cast (in order of appearance)
It's Man---Michael Palin