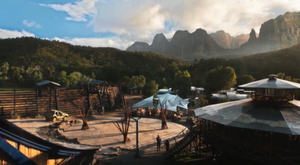 The Ranger Station is a human settlement on Isla Sorna. In the novella Jurassic Park Adventures: Prey Alan Grant proposes to the UN General Assembly that without human interference the dinosaurs of Isla Sorna will face extinction. During his visit to Isla Sorna Grant noticed that the predator/prey ratio was out of balance.
The Ranger Station is located inside the island. The Station is used to study to dinosaurs, sequence their DNA and relocate predators.
All energy for the settlement is provided by the Geothermal Power Plant that InGen had build on the island.
Crew
Dino Lab Research Center
The Dino Lab Research Center is a complex of multiple research centers. Most of the centers are laboratories that InGen had build before.
The cell biology research is led by Dr. A. Gershon.

Control Center
The Control Center is the central nerve system of the island.
monitors the movements of all dinosaurs on the island
Coordinates security
Coordinates tourist travel
Link with security camera's
Commands security forces
Town
The crew on the island is so large that their houses form a little village. Furthermore, there are people on the island working in fascilities that support these workers. There is a market, there are shops, a hospital, Church, cinema, museum etc.
When the settlement had existed a few years, and shown to be viable, tourists were allowed on the island. The visiters stay in the Safari Lodge. Visiter fascilities are:
Visiter Center
Pool
Restaurant "Les Gigantes"
Tennis yard
"Jurassic Outfitters" shop
Fence
A large electric fence surrounds the settlement. Multiple watchtower are build at strategic points. Guard keep watch 24 hour a day.
Dock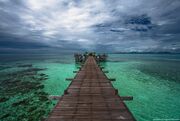 Supplies and humans resources arrive at Isla Sorna at the East Dock. This dock was build near the ruins of a Resort that InGen planned to build.
The East dock is connected with the Ranger Station with an electric monorail and multiple service roads.
Community content is available under
CC-BY-SA
unless otherwise noted.